Okay, for those of you who love to waste precious hours in front of the idiot-box watching Music Videos, you'll be excited to know that Channel [V]'s Remote Control show is in Kota Kinabalu.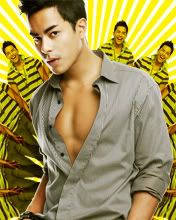 VJ Alvey is in town girls. Go wet your pants.
Remote Control [RC] is a show where you request for your favourite music videos to be played after these goons walk up to you and asks you a few questions. This week RC is going to check out cool holiday / hang out spots in Kota Kinabalu.
Only one request from me though. PLEASE for the love of God, do not act like a stupid over excited high school girl when you meet them. It's hard enough that we get crap from certain Malaysians *cough* *cough*, don't give them more ammo.
Subscribe to this blog for more breaking news like this by clicking this link