Frankly, I'm sick and tired of all this
Sufiah Yusof
/ Shilpa Lee hype. I mean after spending the whole night looking for her "exclusive" pictures and videos, (that's right, don't pretend that you didn't as well!) I stumbled upon nearly 30 different sites with the same content.
Almost every site was a carbon copy of the other, with slight (and I do mean SLIGHT) changes here and there.
What sickens me the most is that people are sympathetic towards her, and angry towards her father. Come on, just because her dad pushed her to study hard doesn't mean you have to rebel and become a hooker. If this was the case, Malaysia would be swarming with gigolos and prostitutes.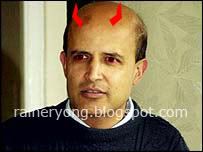 How the media portray Mr. Yusof.
If you're representing your country in the 100m dash and your coach is a pain in the ass that pushes you to train hard, you don't say "Aww screw this, I'm going to be a hooker! That'll show you!"
If anything I say she just wanted to blame someone or something in case she didn't make it. Call me ruthless but this is the cold hard world we live in. What I'm trying to say here is that all of these was her choice.
Want to blame someone? Blame the media for blowing this out of proportion. She may have charged £130 for her services, but after this media frenzy, she just as well charge more for her celebrity status.
Like this article?
Subscribe to Full RSS
DIGG This!