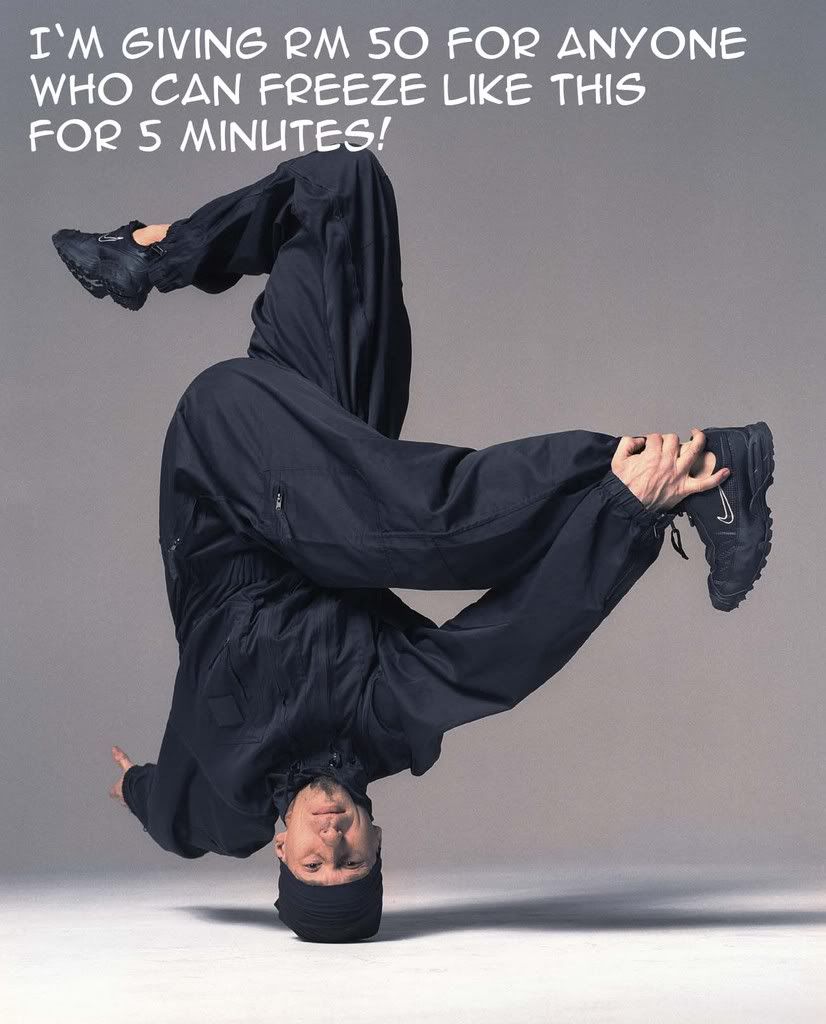 Well not like this. But it'll be pretty damn good if you can pull this off!
I'll be attending a cause organized by none other that Edgar later today at 20:00. It is called "Freeze". The location will be at Citymall Kota Kinabalu. Recently, I've been feeling a little more social and care more about the nature so I think I'd just pop in and support this cause.

This is how hyped I am at freezing. Don't ask me why my Windows Live Messenger is pink. I was talking to a girl and all the girls on my WLM's default colour is pink.
More Info on Freeze taken from Edgar's Site
FREEZE WORLD EARTH DAY
"Save Energy by Freezing People & Power"
Location: Citymall, Kota Kinabalu.
Time: 8pm SHARP
Day: Sunday 20/4/2008
In conjunction of the Freeze for World Earth Day that is going to be held in Sunway Pyramid. We're gonna do the same thing in our hometown of Kota Kinabalu. Who is with me can drop a message in my blog or you can mail to edgargill[at]gmail[dot]com with the tag FREEZE.
Why?
So I can count out how many people are joining for this event.
Let me tell you some things about FREEZE.
What is freeze?
According to RandomAlphabets.com, Freeze is when a group of people gather at a certain location and do-not-move/freeze for a few minutes. It happens unannounced and unexpectedly to the others who are not part of the group thus creating a scene and gauging a response. It is a 'mission'. They have many other missions and their missions are adopted by other people in other parts of the world.
Well, literally freezing. Not moving. It's not too long. Just 5 minutes max.
What are we going to do and what are we going to achieve?
Mainly freezing don't do anything but what we're doing here is different. We're freezing for a cause. It's for World Earth Day. Snippet from RandomAlphabets.com:
Primarily, the event seek to create an impact and awareness for earth related issues and the forthcoming World Earth Day on April 22nd which will be celebrated worldwide.
It's too soon.
It can also be too late. The Freeze idea is a buzz right now in Malaysia due to KLFU (KLFU on YouTube, KLFU was Blogged) and it has proven to be an effective way of bringing human beings together for a cause and producing an impact. There are various ways to celebrate, create awareness and produce an impact for World Earth Day. The organisers pick Freeze, with a twist.
What's the twist?
Normally, everyone comes to Freeze to cause a scene and do it purely for fun. We are taking part of that, and going beyond. It is in conjunction with World Earth Day.
The venue will be confirmed as soon as I get the word from the management of Citymall. Besides this is participation. Please spread the word.
Okay now I'm going off to practice my freeze action for tonight! Say hello if you meet me there! taaaaa!
Like this article?
Subscribe to my Full RSS!